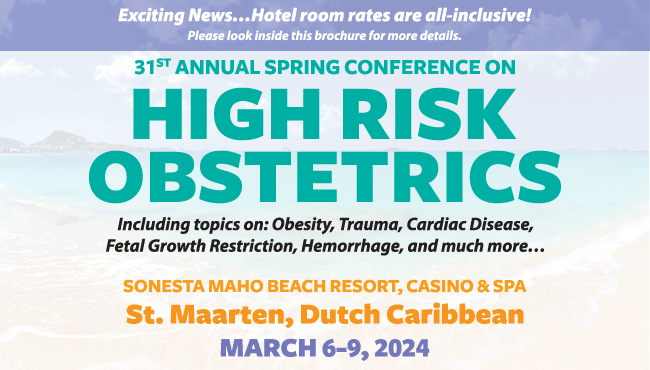 "Symposia Medicus always has great conferences with excellent faculty and topics that can be immediately applied to daily practice. Conference locations are spectacular!"
– L. Ezenagu, MD

"Symposia Medicus conferences offer up-to-date information, great faculty, and nice places to visit!"
– M. Norris, CNM

"Very well done! I plan to attend more CME conferences with Symposia Medicus."
– M. Lawrence, MD

CONFERENCE DESCRIPTION

Our 31st Annual Spring Conference on High Risk Obstetrics is designed for physicians, certified nurse midwives, nurse practitioners, physician associates, nurses, and other allied healthcare professionals who face challenges in the care of the high risk pregnant patient. Covering a wide array of topics, our expert faculty will discuss the latest evidence-based advancements in obstetric care, present emerging clinical data, and provide skills and strategies for application and implementation into your practice. This educational activity aims to increase learner knowledge, improve the competence and performance of all attendees, and contribute to their ability to work together as part of a coordinated healthcare team.

Topics for this year's conference have been selected based on the educational needs underlying identified professional practice gaps. The gaps were derived from a variety of sources including evaluations and outcomes data from past participants, clinical expert input, Symposia Medicus' online survey, and other medical and nursing data such as current clinical guidelines, research findings, literature reviews, and patient safety considerations.
           
An outstanding faculty has been assembled for this conference. Each faculty member was selected based on their individual area of expertise and ability to communicate current, evidence-based, and practical information to participants.

The conference format includes didactic lectures, question and answer sessions, case studies, and small group breakouts. Following a group of lectures, the question and answer sessions allow attendees to ask the faculty critical and challenging questions about caring for patients during various high risk obstetric situations.

The breakout sessions, designed to facilitate even greater interaction between faculty and participants, offer an opportunity to engage in group discussions on subjects relating to your particular area of interest. Please indicate your breakout session topic choices on the conference registration form in this brochure. Space is limited, so please reserve early.

CONFERENCE OBJECTIVES

As a result of participating in this conference, you should have increased knowledge and enhanced competence to…

• Conduct a diagnostic work-up for the growth-restricted fetus

• Review the diagnostic methods and treatment plans available for your patients presenting with headaches

• Identify three risk factors associated with obesity in pregnancy

• Respond to a hypertensive crisis with appropriate medications

• Discuss the roles of ultrasound and monitoring in the management of trauma


ATTENDEE REQUIREMENTS

After attending this conference, participants are entitled to a certificate of credit which will be available online. Successful completion of this activity is determined by attending the live activity, reviewing the educational session materials, and submitting the case studies test, evaluations, surveys, and verification of attendance form. Each participant should only claim credit commensurate with the extent of their participation in the activity.


ACCREDITATION

This accredited continuing education activity was planned and produced in accordance with the ACCME and ANCC Standards for Integrity and Independence in Accredited Continuing Education.

Symposia Medicus is accredited by the Accreditation Council for Continuing Medical Education (ACCME) to provide continuing medical education for physicians.

Symposia Medicus is accredited as a provider of nursing continuing professional development by the American Nurses Credentialing Center's Commission on Accreditation.

CONTINUING EDUCATION CREDIT

Physicians
Symposia Medicus designates this live activity for a maximum of 18 AMA PRA Category 1 Credits™. Physicians should claim only the credit commensurate with the extent of their participation in the activity.

This ACE activity was developed with standards to address California Assembly Bill (AB) 1195 cultural and linguistic competency (CLC) and CA AB 241 implicit bias (IB) to reduce health disparities. Please refer to the accreditation page on our website for resources.

ACOG
Application has been made with the American College of Obstetricians & Gynecologists (ACOG) for cognates, Formal Learning. Please check our website for updated credit information.

Certified Nurse Midwives
The American Midwifery Certification Board (AMCB) accepts Category 1 CME approval from organizations accredited by the ACCME.

Nurse Practitioners/Nurses
The ANCC contact hours awarded for completion of this conference are 18.

Provider is also approved by the California Board of Registered Nursing, Provider #CEP2335, for 21.6 contact hours.

Physician Associates
NCCPA accepts certificates of participation for educational activities certified for AMA PRA Category 1 Credit™ from organizations accredited by ACCME or a recognized state medical society. Physician associates may receive a maximum of 18 hours of Category 1 credit for completing this program.

Pharmacists
The California Board of Pharmacy accepts as continuing professional education those courses that meet the standard of relevance to pharmacy practice and have been approved for AMA PRA Category 1 Credit™

Pharmacotherapeutic CEUs for Nurses
This activity is designated for a maximum of 2 pharmacotherapeutic credits towards meeting the requirement for nursing pharmacology continuing education. Sessions awarding pharmacotherapeutic credits are denoted with an Rx in the schedule. Please contact your state's Board of Nursing for specific educational requirements as they may vary state to state.

EDUCATIONAL RESOURCES

Each registrant will have online access to educational session materials. The educational session materials will be available for download approximately one week prior to the conference (you'll receive an email with instructions).

If you are unable to attend this conference, you may purchase an electronic copy of the educational session materials one week after the conference. Please email publications@symposiamedicus.org for more information.

HEALTH & SAFETY AWARENESS

We care about the health and safety of our conference attendees. As the event gets closer, Symposia Medicus will communicate any relevant health and safety policies and procedures implemented by us and/or the conference venue.

NEARBY ATTRACTIONS / GROUND TRANSPORTATION

To receive additional information about the conference hotel, location, tours or nearby attractions, and ground transportation, please visit our website at www.symposiamedicus.org.

CONFERENCE FACULTY

Monique De Four Jones, MD, MBA, MS
Associate Chief of Labor & Delivery
Katz LIJ/Northwell Health
Director, Diversity Equity & Inclusion
OB/GYN Service
Northwell Health
Director, OB/GYN Hospitalist Fellowship
LIJ/Northshore
Associate Professor
Zucker School of Medicine
Department of Obstetrics & Gynecology
Long Island Jewish Medical Center
New Hyde Park, New York

Stephanie R. Martin, DO
Conference Co-Chair
Maternal Fetal Medicine Specialist
Co-Owner & Medical Director
Clinical Concepts in Obstetrics, LLC
Scottsdale, Arizona

Michelle Owens, MD, MS, FACOG
Professor, Obstetrics & Gynecology
Maternal Fetal Medicine
Ascension St. Vincent's Hospital
Indianapolis, Indiana

Shailen Shah, MD
Section Chief Perinatology
Medical Director & Lead Physician
Virtua Maternal Fetal Medicine
Voorhees, New Jersey

Mureena Turnquest Wells, MD, FACOG
Conference Co-Chair
Medical Director of Maternal Fetal Medicine
Ascension St. Vincent Evansville
Evansville, Indiana

DISCLOSURE STATEMENT
Consistent with ACCME and ANCC guidelines, it is the policy of Symposia Medicus to ensure balance, independence, objectivity, and scientific rigor in all educational activities. Prior to the planning of this educational activity, all individuals in a position to influence and/or control the content of continuing education activities have been asked to disclose all relevant financial relationships with ineligible companies within the past 24 months. Symposia Medicus will also ensure that any and all relevant financial relationships with ineligible companies will be mitigated before the conference commences. Beyond disclosure and mitigation of relevant financial relationships, faculty are required to disclose when they plan to discuss pharmaceuticals and/or medical devices that are not approved by the FDA and/or medical or surgical procedures that involve an unapproved or "off-label" use of an approved device or pharmaceutical. Symposia Medicus is committed to providing learners with commercially unbiased continuing education activities. This information is intended to assist learners in forming their own judgments about the content presented. Disclosure information will be included in the educational session materials for this activity and speakers will provide a disclosure slide for each presentation, which they will also disclose verbally on site.

CONFERENCE SCHEDULE

Wednesday, March 6

7:00am
Registration & Check-In
8:00
Welcome & Introduction
Stephanie R. Martin, DO & Mureena Turnquest Wells, MD
8:15
Sepsis & Septic Shock
(Rx = 15 minutes)
Stephanie R. Martin, DO
9:00
Her Blood Pressure Is Sky-High! How to Keep Yours Normal
(Rx = 15 minutes)
Shailen Shah, MD
9:45
Questions & Answers
Group Discussion
Faculty Panel & Audience
10:15
Break
10:30
Obesity & Pregnancy: Mitigating Risk
Michelle Owens, MD, MS
11:15
Viruses in Pregnancy
(Rx=15 minutes)
Mureena Turnquest Wells, MD
Noon
Obstetric Hemorrhage
Monique De Four Jones, MD, MBA, MS
12:45pm
Questions & Answers
Group Discussion
Faculty Panel & Audience
1:30
Adjourn for the Day
5:30-7:00
Group Reception
(Faculty, Participants, and Guests)

Thursday, March 7

8:00am
Fetal Growth Restriction: Diagnosis & Management
(Rx=15 minutes)
Mureena Turnquest Wells, MD
8:45
Indefensible: The Maternal Mortality Crisis in America
Stephanie R. Martin, DO

9:30

Questions & Answers
Group Discussion
Faculty Panel & Audience

10:00

Break

10:15

Intrahepatic Cholestasis of Pregnancy
(Rx=15 minutes)
Mureena Turnquest Wells, MD
11:00
Respiratory Issues: Asthma, Pneumonia, and More
(Rx = 15 minutes)
Shailen Shah, MD
11:45
Minor Trauma in Pregnancy
Stephanie R. Martin, DO
12:30pm
Questions & Answers
Group Discussion
Faculty Panel & Audience
1:15
Adjourn for the Day

Friday, March 8

3:00pm
Smaller Group Breakouts – Session One
.
• Case Studies in Cardiac Disease During Pregnancy


•

Shailen Shah, MD

.

• Patient Safety Initiatives in Obstetrics


•

Monique De Four Jones, MD, MBA, MS

.

• Perinatal Care at the Limits of Viability


•

Michelle Owens, MD, MS

.

• Management of Premature Rupture of Membranes


•

Mureena Turnquest Wells, MD
4:30
Break
4:45
Smaller Group Breakouts – Session Two
(Session One Topics Repeated)
6:15
Adjourn for the Day

Saturday, March 9

8:00am
Preterm Birth Prevention
(Rx = 15 minutes)
Michelle Owens, MD, MS
8:45
Headaches in Pregnancy: When to Worry
Monique De Four Jones, MD, MBA, MS
9:30
Questions & Answers
Group Discussion
Faculty Panel & Audience
10:00
Break (hotel check-out, if applicable)
10:15
Amniotic Fluid Embolism
Stephanie R. Martin, DO
11:00
Reducing the Initial Cesarean Delivery
Monique De Four Jones, MD, MBA, MS
11:45
Venous Thromboembolism & Pregnancy
(Rx = 15 minutes)
Michelle Owens, MD, MS
12:30pm
Questions & Answers
Group Discussion
Faculty Panel & Audience
1:15
Conference Adjourns

Rx = Pharmacotherapeutic CEUs for nurses will be granted for these sessions

CONFERENCE LOCATION
One of the most magnificent Caribbean islands, St. Maarten is surrounded by beautiful blue water and white sand beaches, making it the perfect tropical getaway. With its blend of French, Dutch, and Caribbean influences, this piece of paradise offers endless possibilities for adventures on both land and sea.
The smallest island in the world ever to have been partitioned between two different nations, Saint Martin/Sint Maarten has been shared by the French and the Dutch in a spirit of neighborly cooperation and mutual friendship for almost 350 years. Saint Martin on the French side is known for its outdoor markets and rich French and Indian Caribbean cuisine, while the Dutch side is known for its festive nightlife, beaches, jewelry, exotic drinks, and plentiful casinos.
Sonesta Maho Beach Resort, Casino & Spa is located on the island's southwest shore in the heart of St. Maarten, where you can find duty-free boutiques, a host of international restaurants, bars, cafes, and lounges to suit every palate, plus a bustling nightlife—including Casino Royale, the island's largest casino and theatre. The property features a man-made beach, The Palms Beach (a private extension of Maho Beach), known for its famous plane spotting and is only a 10-minute walk from Mullet or Simpson Bay. For the adventurous, snorkeling, scuba diving, sunset dinner cruises, ATV and dune buggy tours, distillery tours, private charters, and more await. Or, if you're looking for some R&R, enjoy the resorts' signature well-being retreat within the peaceful walls of Serenity Spa, where you can quiet your mind, ease muscular tension, or reconnect with your mind, body, and soul.
Whatever your pleasure, you'll be sure to find it on St. Maarten, at our 31st Annual Spring Conference on High Risk Obstetrics.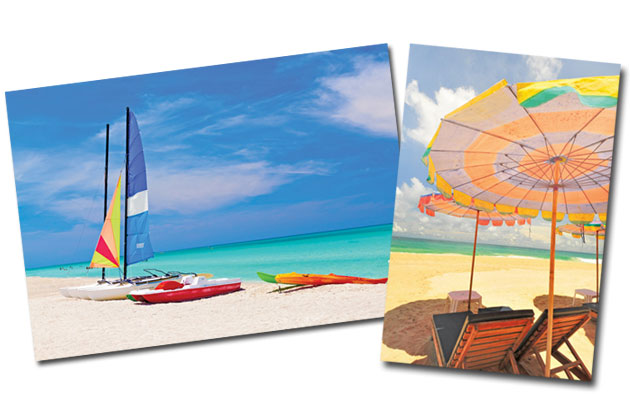 CONFERENCE REGISTRATION, LODGING & TRAVEL INFORMATION
Enrollment for this conference is limited in order to provide the best possible learning environment. Early registration is advised.
You can register in the following ways:
• Online via our website, www.symposiamedicus.org; OR
• Call (925) 969-1789 Monday-Friday, 8:30am-5:00pm (Pacific Time), with Visa, MasterCard, American Express, or Discover; OR
• By mail; make check payable to Symposia Medicus and send along with registration form to: 399 Taylor Blvd, Suite 102, Pleasant Hill, CA 94523-2287
Please visit www.symposiamedicus.org or call (925) 969-1789 for additional questions or information.
CONFERENCE REGISTRATION INFORMATION
TUITION:
EARLY
If postmarked by
December 27, 2023
REGULAR
If postmarked after
December 27, 2023
Physicians
$795
$895
Residents, Nurses, PAs, & All Others
$695
$795
• Discounts are available for retired healthcare providers, active U.S. military, and groups of three or more. For more information, please contact Symposia Medicus prior to registering.
• Tuition includes continuing education, online access to educational session materials, and break refreshments for conference registrants. Tuition also includes a group reception for faculty, registrants, and their guests.
• Conference registration will be confirmed via email
Due to strict hotel security for non-hotel guests, please contact Symposia Medicus
if you are not staying at Sonesta Maho Beach Resort, Casino & Spa.
CONFERENCE LODGING INFORMATION
Conference group rates have been arranged at the Sonesta Maho Beach Resort, Casino, & Spa.
These special rates will only be available until Thursday, January 18, 2024 and will only be available after that date on a space and rate available basis. We recommend you reserve your lodging as soon as possible, as rooms at the conference group rates are limited and on a first come, first served basis. Rooms may sell out and/or room rates may increase prior to the release date.
The conference group rates will also be available three days before and three days after the conference (based on availability) if you wish to extend your stay.
GROUP RATES STATED BELOW ARE ALL-INCLUSIVE
ROOM TYPE
SINGLE OCCUPANCY Group Rates below are for ONE adult (13 years & older)
DOUBLE OCCUPANCY Group Rates below are for TWO adults (13 years & older)
TRIPLE OCCUPANCY Group Rates below are for THREE adults (13 years & older)

Description
All rooms and suites include: private balcony with outdoor furniture, energy efficient in-room climate control, flat screen TV, iron & ironing board, in-room safe, coffee maker with coffee and tea, mini-fridge with water and sodas, hair dryer and bath amenities.

SONESTA MAHO BEACH RESORT, CASINO & SPA
Superior Room
$470/night
$520/night
$750/night
These rooms are 440 sq. ft. with either one or two beds and furnished balcony or patio with ample closet space.
Garden/Island
View Room
$485/night
$540/night
$780/night
These rooms are 440 sq. ft. with either one or two beds with a semi-private patio or balcony with views of the resort's lush gardens.
Signature Island
View Room
$505/night
$560/night
$810/night
These rooms are 440 sq. ft. with island-facing views, Maho Village or adjacent golf course and a furnished balcony.
Oasis Pool
View Room
$520/night
$580/night
$840/night
These rooms are 440 sq. ft. with a furnished balcony overlooking the resort's lush gardens and the Oasis Pool.
Signature Ocean
View Room
$540/night
$600/night
$870/night
These rooms are 440 sq. ft. with a furnished balcony overlooking the expansive views of the Oasis Pool and Maho Beach.
One-Bedroom
Garden View Suite
$630/night
$660/night
$1,020/night
Spread out in 670 sq. ft. space divided into a one-bedroom master and a spacious living area with balcony overlooking the resort's lush gardens.
SONESTA OCEAN POINT LUXURY ADULTS ONLY RESORT
Junior Suite King
$695/night
$770/night
N/A
These suites are 460 sq. ft. and feature an ocean view, furnished private terrace or balcony, and living area. They are available only with a king bed and sleep 2 adults. Please note this suite is in the adults only area.
All-inclusive rates include all taxes, all food and beverage (including alcohol), and full use of all facilities, activities, and entertainment programs as provided by the Resort(s). Food options either include à la carte or buffet meal service, depending on the schedule of the Resort(s). Beverage selection includes brands as defined by the Resort. Access to private beach, large oasis pool with slides, kids' club with supervised activities, game area for children, Teen Zone, daily activities & nightly entertainment, five restaurant dining options, plus access to the gym & Serenity Spa.
TERMS & CONDITIONS
Hotel Policies
• A two-night deposit is due to the hotel upon booking at the time of reservation
• Final payment for the remaining stay is due on Friday, January 19, 2024, (45-days prior to event). The hotel will charge the credit card on file (used for the deposit) for the remaining balance.
• Above conference group rates are per room, per night and do not include the following (subject to change):
• - Dry cleaning/laundry
• - Phone charges
• - Store purchases
• - Salon & spa services
• - Tours & transportation
• Maximum guestroom occupancy is:
• - Three adults (13 years old & over are considered an adult), or
• - Two adults and two children (children are 12 & under)
• - Children 6 to 12 years old are $45 per child, per night
• - Children five years or younger are free of charge
• Bed Type Requests: You can select one or two beds; however, requests cannot be guaranteed until check-in
• Rollaways & Cribs: Rollaway beds and cribs are both complimentary (based on availability)
• Check-in time is 3:00pm and check-out time is 11:00am. A late check-out can only be confirmed on the date of departure by the front desk. Late check-outs are based on availability and additional charges may apply.
• Credit/Debit Card Policy: Upon check-in, the hotel requires a credit card to place a hold for the room, resort (resort tax is included in the group rates, see above), and estimated incidentals ($50 per night) for the entire stay. The same policy will apply with debit cards; however, the amount will be immediately deducted from your account and any extra funds will not be released back into your account for approximately 10 business days after departure, depending on your financial institution.
• Parking: Self-parking is $10 per day for all guests. Valet is not available at this resort.
• Hotel Cancellations must be made directly with the hotel at least 45 days prior to your scheduled arrival date. Any cancellations after this date will be charged the original reserved stay. Please contact the hotel for further information.
Cancellation Policies
• Conference cancellations must be made in writing (via email) to Symposia Medicus and a refund, less a 10% processing fee, will be given. No refunds will be made if cancellation is received after January 31, 2024; however, tuition, less a 10% processing fee, may be applied to a future Symposia Medicus conference.
• All cancellations must be emailed to registrar@symposiamedicus.org by the date stated above
• In the unlikely event of conference cancellation by Symposia Medicus, full tuition and, if reservation was made with Symposia Medicus, hotel deposit refunds will be made. Symposia Medicus will not be responsible for refunding travel or any other expenses.
AIR TRAVEL INFORMATION
You will fly into Princess Juliana International Airport (SXM), which is less than 5 minutes from Sonesta Maho Beach Resort, Casino & Spa. Please note that taxicabs are plentiful and the best option to get to the resort. For more information on ground transportation, please visit our website.
Symposia Medicus has arranged for discount fares with Delta and United Airlines for this conference. Reservations can be made either through your travel agency or through the airlines at the website or Convention Desk numbers listed below.
In order to receive the discounted rate, you or your travel agent must refer to the Symposia Medicus Group ID number listed here.
| | |
| --- | --- |
| Delta Airlines | For discounts on Delta Airlines, please visit www.delta.com, enter in your travel plans and then click on the "Advanced Search" link located below the "Passenger" box. Once you click on this link, a panel will appear and you will need to insert NY35Z in the "Meeting Code" box. For questions, please call the Delta Airlines Convention Desk at (800) 328-1111. |
| United Airlines | For discounts on United Airlines, please visit www.united.com and click on Advanced Search, located on the bottom left corner of the "Book Travel" box. Once you click on this link, another page will appear. At the bottom of this page, you will insert ZNQA939938 in the "Promotions and Certificates" box at the end of the page. For questions, please call the United Airlines Convention Desk at (800) 426-1122. |